Sperm Analyzer
Sperm analyzer
Using a 5 mega pixel camera and progressive algorithms. the system can easily and precisely mesure the number of sperm and their activity.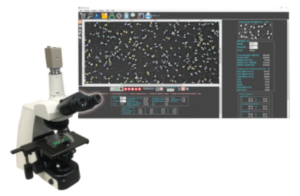 Computer-Aided Semen Analysis(CASA)
SMAS is the only japanese CASA system for human and animal sperm's motility and concentration. Using SMAS will give you a great advantage in reducing measuring error's on semen examination.
With 5 mega pixel camera
DITECT's 5.3 million(5 mega) pixel CMOS high speed camera witch is our own product will offer steady supply and maintenance, and even a sufficient accuracy.
Based on WHO laboratory manual for the Examination and processing of human semen
SMAS supports WHO 1999 and 2010 guideline for VSL ABCD classification. It can be showed in numeric, color coded, and graph's.
SMAS software image in human sperm motility analysis.
Much easy and much higher sperm counter by a 5 mega super resolution camerar and sperm identify algorithm.