Software (PIV/Motion Analysis)
Software
(PIV/Motion Analysis)
Sophisticated PIV and Motion capture software by DITECT. These systems will support you to analyze various targets by all kinds of technics based on correlation, binarization, color tracking, and checker markers.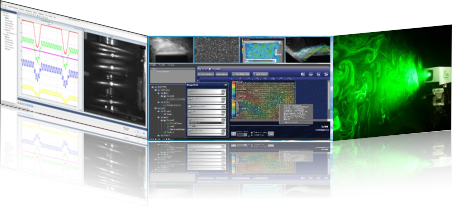 PIV software
Flownizer2D (PIV 2D2C software including PTV 2D2C) and Flownizer3D (PIV 2D3C) are useful in all kinds of flow visualization experiments such as wind tunnel, water tank, heat transfer, river, and blood flow.
Motion capture software
DIPP-MotionV (2D/3D) are useful in all kinds of motion analysis such as human motion capture, automotive, river/ocean models, robot control, and animal/insect behaviors.
What is PIV?
PIV (Particle image velocimetry) is an optical method used in fluidics fields to analyze instant vector velocity by measuring minute change of generous fine particle image that traces the motion of the flow accurately in the image.
What is Motion Capture?
Motion capture (motion analysis) is an optical method used in kinematic fields to measure moving data of people and objects using point and markers, and even naturally image patterns from the fine and accurate picture.
PIV samples and motion capture samples from DITECT's image analysis software.
Lineup
A new standard direct cross-correlation based Particle Image Velocimetry software with ensemble correlation, CBC technic, and full of useful functions.

A full spec off-line motion analysis software for all needs based on Normalized cross correlation, Binarization of gray-scale, HLS color, Checker-marker trackings.