Sperm motility analysis system [SMAS]
5 mega pixel high resolution semen analysis
Sperm motility analysis system [SMAS]
Much easier and higher sperm analyzer by a 5 mega high resolution camera and original sperm identification algorithm will distinguish between motile and immotile spermatozoa.
Analysis items such as count/concentration/motility rate/VSL/VCL/VAP/LIN/STR/ALH/BCF are available.
*Human IVF/ART clinics
For examination and processing of human semen
*Livestock experiment station/department of agriculture and veterinary
For live stock reproduction in bull/pig/water buffalo/chicken/dog
*Institute/breeder of experimental animals
For rat/mouse/marmoset
*Marine research center/cell biology institute
For sea urchin/sea squirt/spear squid/zebrafish
Details
With a high-resolution digital camera, the resolution is increased about four times compared to conventional products
About up to 5000 motile sperm (a semen about 400,000,000/ml concentration)
Result data and traced image will be saved automatically after analyzing
Original sperm image and tracking image can be saved also
The analysis result can be displayed in classification of WHO measurement standard (1999/2010) ABCD
Traces are color-coded according to sperm velocity to facilitate visualization
Progressive sperm analyzable
Custom category classification / cut off filter available
Tracking and measurement
The operation is very simple. The user must only set semen on a microscope and press the imaging button.
The system performs automatic processing from imaging to measurement and displays the result immediately.
With an original sperm identification algorithm, SMAS distinguishes between immmotile and motile sperm.
It tracks all behaviors of motile sperm for one second and calculates specified items.
Each sample can be mesured as many times as desired in order to correct the error of bias in the chamber.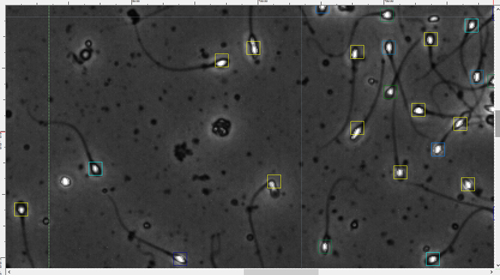 Measurement result (field and motility)
Immediately after imaging, the measurement results are displayed on the monitor screen as numerical data and video image.
It is now possible to improve the analysis of individual motility and to make a detailed measurement of each single sperm.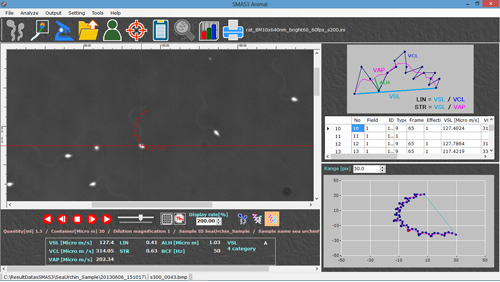 Analysis graph view
Based on the individual sperm trace data obtained, the system calculates total sperm count, motile/immotile sperm count and other analysis items.
In addition, the system reports the measurement results as a histogram and as WHO 1999/2010 classification graphs.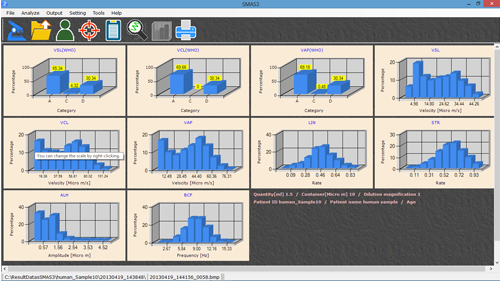 Reporting function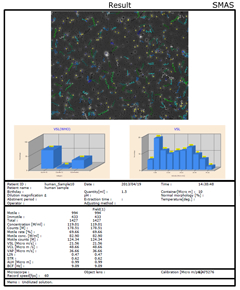 Analysis results can be printed as a report data sheet. The report is from 30 items including name, age, and other information.
Also one trace image, two graphs, and five sets of measurement results will be arranged in the A4 layout.
Specification
Spec of sperm analyzer "SMAS"
| | |
| --- | --- |
| Equipment configuration | 5 mega pixel high resolution camera/camera cable/SMAS PC/monitor/keyboard/mouse/microscope/SMAS software |
| Camera mode | 2548x2048 @ 60fps (for human and animal spermatozoa) 1980x1080 @ 150fps / 1024x1024 @ 300fps / 800x600 @ 500fps / 640x480 @ 800fps (for animal spermatozoa only) |
| Compute/analyze item | Count, concentration, motility, motility concentration, VSL, VCL, VAP, LIN, STR, ALH, BCF |
| Supported languages | English and Japanese |
| Supported OS | Windows 7, 8, 8.1 (64bit) |
| Required biological microscope | Phase-contrast condenser / 10X field lens / ph1 ring / green filter / direct TV adapter |