HAS-U1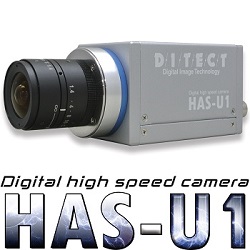 HAS-U1 is a high speed camera with ½-inch CMOS sensor and 1.3M 1,280×1,024 effective pixels that can shoot 200fps at full resolution, 800fps at VGA, and up to 4,000fps by limiting the pixel area.
Perfect for multiple high speed camera imaging, with embedded memory, in one compact solution.
Perfect for all kinds of research / production engineering in behavior,
fluid, sports science, biomechanical, robotics, machine vision,
crash test, droplet, microscopy, trouble shooting, and more.
Product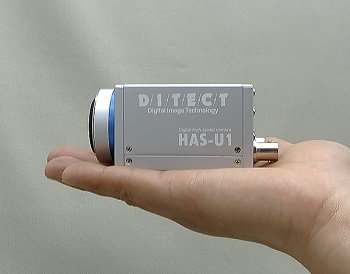 ●Camera unit
●USB3.0 cable
●Control software

Frame rate and pixel size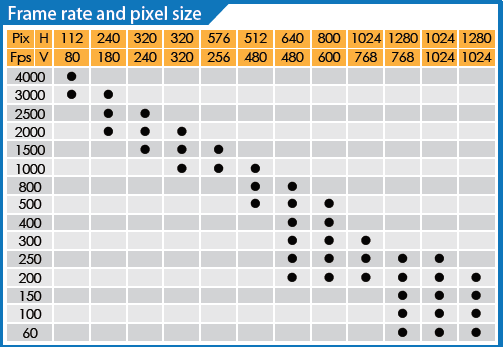 Connection diagram
Embedded memory mode
Multiple cameras with one PC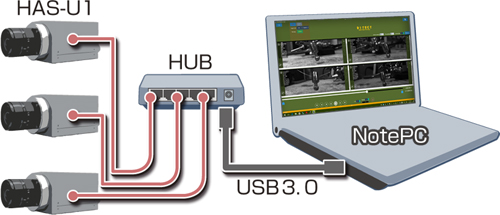 DMA transfer mode
Large volume of memory available using 64bit OS.

Details
●Good balance between high resolution and high frame rates
●It can use both embedded 2GB memory mode and direct memory access mode with
 USB3.0 as the situation demands
●Fully synchronized multiple high speed cameras with just one laptop PC
●Large volume of memory by using 64bit OS
●The low power consumption design, made for USB3.0 bus power, simplifies your cabling layout
●Internal / External sync
●10bit A/D
●Data transmission rate at 250MB / sec
●Unit weight approx. 210g, unit size (W×H×D) 44×44×81.5mm
Frame number, resolution and recording duration table

HAS-U1 Dimensions
Specification